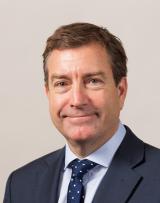 Anthony has 28 years of experience in the financial markets and joined 36 South in 2006. He is a member of the Investment Management Committee. As the Head of Quantitative Research, he coordinates the quantitative research function which involves theoretical research, as well as the development of tools and infrastructure required for the discovery of trade opportunities. His experience lies across directional and relative value trading, fixed income and credit, foreign exchange, commodities, derivatives and quantitative analytical research.

Anthony has authored a number of client articles and papers in industry publications on topics such as volatility investing, and volatility benchmarking. He is also a frequent speaker at conferences and seminars and often appears as a guest speaker on broadcast media dedicated to industry specific topics.

Prior to joining 36 South in March 2006, Anthony worked for a variety of global financial organisations including Deutsche Bank (formerly Bain & Co.) and HSBC in Sydney, Credit Lyonnais in Tokyo, and Bank of New Zealand in Wellington as well as his own firm, Pure Capital Limited, specialising in uncorrelated investment strategies.

Anthony holds a Master of Applied Finance degree from Macquarie University (Australia).