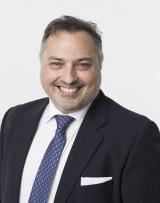 Along with the investment committee, Con is responsible for managing Statewide Super's $8 billion in funds under management.
Prior to joining Statewide, Con was Director of Marketing and Client Services for Manhattan-based boutique investment firm Pzena Investment Management, where he was responsible for marketing the firm's products and services in Australia, New Zealand, Hong Kong and Singapore. He was previously the Director, Head of Institutional Business, for Merrill Lynch Investment Managers based in Sydney. Con has also worked in London with Alliance Capital Management and was the first Australian practice leader of investment consulting for Watson Wyatt.
Con has a Bachelor of Mathematical Science from the University of Adelaide, a Masters of Science from the University of London, a Postgraduate Diploma in Financial Strategy from Saïd Business School at the University of Oxford, and is a Fellow at the Financial Services Institute of Australasia.