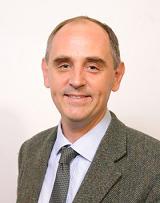 Edward Lucas is a senior editor at The Economist, responsible for coverage of energy, commodities and natural resources. He is also a senior vice-president at the Center for European Policy Analysis (CEPA)., a Washington DC think-tank. His expertise includes energy, cyber-security, espionage, Russian foreign and security policy and the politics and economics of Eastern Europe.
Having covered Russia and Central and Eastern Europe for more than 20 years as a journalist, Edward Lucas offers uniquely valuable insights into the political and economic climate of the former communist countries and how current trends will affect the West. He was formerly the Central and Eastern European correspondent for The Economist and edited the International section. He has occupied several other senior posts at the world's foremost newsweekly, including Moscow Bureau Chief from 1998 to 2002.
He has been a foreign correspondent for The Independent, the BBC World Service, and a producer at BBC Radio. An experienced broadcaster, public speaker, moderator and panelist, Edward has given public lectures at Harvard, Oxford, Cambridge and other leading universities. He is a regular contributor to the BBC's Today and Newsnight programmes, and to NPR, CNN and Sky News. His weekly column for European Voice (Brussels) has appeared since 2005 and is syndicated in a dozen languages; he also writes for the Times, Daily Telegraph, Daily Mail, Foreign Policy and Standpoint.
He was a co-founder in 1992 of an English-language weekly in Tallinn, Estonia: The Baltic Independent.
Edward is the author of several books. Cyberphobia, a book on security, identity, privacy and anonymity in the digital age, will be published in mid-2015. The Snowden Operation, a critical account of the leaks from the NSA in 2013, appeared as a Kindle Single in 2014. His prescient and best-selling analysis of the threat posed by the Putin regime in Russia, The New Cold War, originally written in 2007 was republished last year in a revised and updated edition. It includes a new preface on the Crimean crisis, including analysis of the dismemberment of Ukraine, and the devastating economic and diplomatic fallout.
Edward Lucas has covered every major story coming out of Russia and Eastern Europe since the final years of the last Cold War, from the fall of the Iron Curtain to Vladimir Putin's extraordinary consolidation of political and economic power. He offers audiences unparalleled historical perspective and indispensable, up-to-the-minute insight into modern Russia, the economic and political forces bearing down on the former communist satellite countries, and on all of Europe and beyond. He warns that Western powers have been dangerously divided, weak and complacent in the face of these new threats and suggests ways to win this new cold war.
He studied economics at the London School of Economics and speaks five languages - German, Russian, Polish, Czech and Lithuanian.