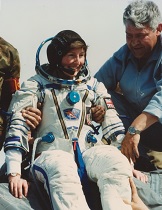 Helen Sharman became the first British Astronaut when, in May 1991, she launched on a Russian Soyuz spacecraft and spent 8 days orbiting the Earth, living and working on the MIR Space Station.

Helen was selected from 13,000 applicants. She didn't think she stood a chance of being chosen, but she was exactly the right person - calm, practical, friendly and professional.

Awarded the OBE in 1993, Helen is a scientist, a pioneer, a role model for young people (of all ages!) and an inspiration. She was awarded the CMG by HM The Queen in 2018 for services to education and science outreach.

Following her space flight, Helen became a science communicator and won numerous prizes for radio and television programmes and for her inspirational talks worldwide on teamwork, STEM, science communication and motivation.

Helen believes "We should push forward, not only our individual boundaries, but also the boundaries of what humans believe is possible. People are the biggest limitations in our own lives. There's a huge amount we can do and we should make the best use of our lives for the benefit of the world."