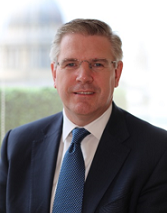 Mike Hodgson is Head of Risk Managed Investments and Structured Funds at Schroders, responsible for tailoring return distributions of growth investments for clients using dynamic allocation strategies and derivatives.

Mike started his career at J. Henry Schroder & Co. Limited in 1987 as an Interest Rate Derivatives Trader. In 1992, he moved into Structured Products and Equity Derivatives Trading (a team which he later led) up until 2000 when Schroders' investment bank was acquired by Citigroup, upon which Mike became Head of New Product Development.

In 2004, Mike joined ABN AMRO Bank NV, first as Global Head of Equity Derivatives Structuring and then, in 2006, Head of Fund Derivatives Structuring and Trading.

Mike rejoined Schroders on the buy side in his current role in 2011.

Mike owns US patents in relation to certain financial instruments that enable market participants to trade and hedge volatility exposure.

Qualifications: PhD in Physics from Cambridge University; BSc in Physics from Imperial College, London.