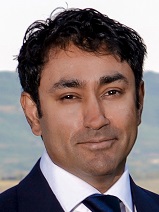 Pav Sethi is the founder and Chief Investment Officer of Gladius Capital Management, a multi-billion dollar asset management firm focusing on derivative strategies and products for institutional clients. Prior to founding Gladius, Mr. Sethi was a Managing Director at Citadel serving as the Global Head of the Volatility Arbitrage Group. Before Citadel, he was a Portfolio Manager in the Volatility Arbitrage Strategy at J.D. Capital Management and began his career at Morgan Stanley in Europe as an equity derivatives trader.
Mr. Sethi has pioneered a number of novel derivative structures and engaged in multiple landmark transactions. His focus most recently has been on structuring the first large scale derivatives programs as tools for portfolio allocation and optimization for some of the largest pension and endowment plans in the United States. Previously, Mr. Sethi engaged in some of the earliest risk syndication programs during the early 2002 period and completed some of the first transactions in index variance swaps, correlation swaps, and covariance dispersion swaps between hedge funds and investment bank.
Mr. Sethi holds a Bachelors degree in Chemistry from Cornell University and a Masters degree in Mathematics from the University of Chicago.