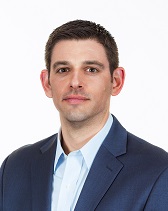 Robert Hocking is Senior Vice President, Head of Derivatives Strategy, for Cboe Global Markets, Inc. (Cboe). Based in Chicago, Mr. Hocking oversees the strategic vision of Cboe's proprietary product franchise and serves as an advisor to the executive, business and product teams, helping shape Cboe's plans for current and next-generation derivatives products.

Mr. Hocking joined Cboe in December 2018. Prior to his current role, he was a member and trading permit holder (TPH) at Cboe Options Exchange for 18 years, trading volatility both in the VIX (Cboe Volatility Index) pit and off the floor.

Most recently, he was Global Head of Equity Volatility Trading at DRW Trading Group in Chicago. Previously, he held positions at Goldman Sachs, where he was a Vice President of Index Trading, and Hull Trading, where he focused on index derivatives.

Mr. Hocking attended the University of Illinois Urbana-Champaign, where he received a B.S. in Finance and Economics from the Gies College of Business. He is an active cyclist and is Vice President and Founder of the DuPage Cycling Foundation.