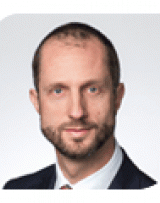 Scott is a Portfolio Manager in the Perennial Value Wealth Defender Team. Prior to joining Perennial Value in July 2014, Scott was a Senior Trader – Global Equities at ANZ Banking Group.
In his role at ANZ, Scott was responsible for managing a portfolio of global vanilla and exotic options across regional equity markets in Australia, Europe, Asia and the USA. A key part of his portfolio management responsibilities was the development and coordination of the strategic platform, inclusive of the risk management platform.
Before that, Scott was Executive Director – Head of Equity Derivatives Trading for UBS in Sydney, managing the Flow, Exotics and Delta One teams. He has been in the derivatives markets since 1999.